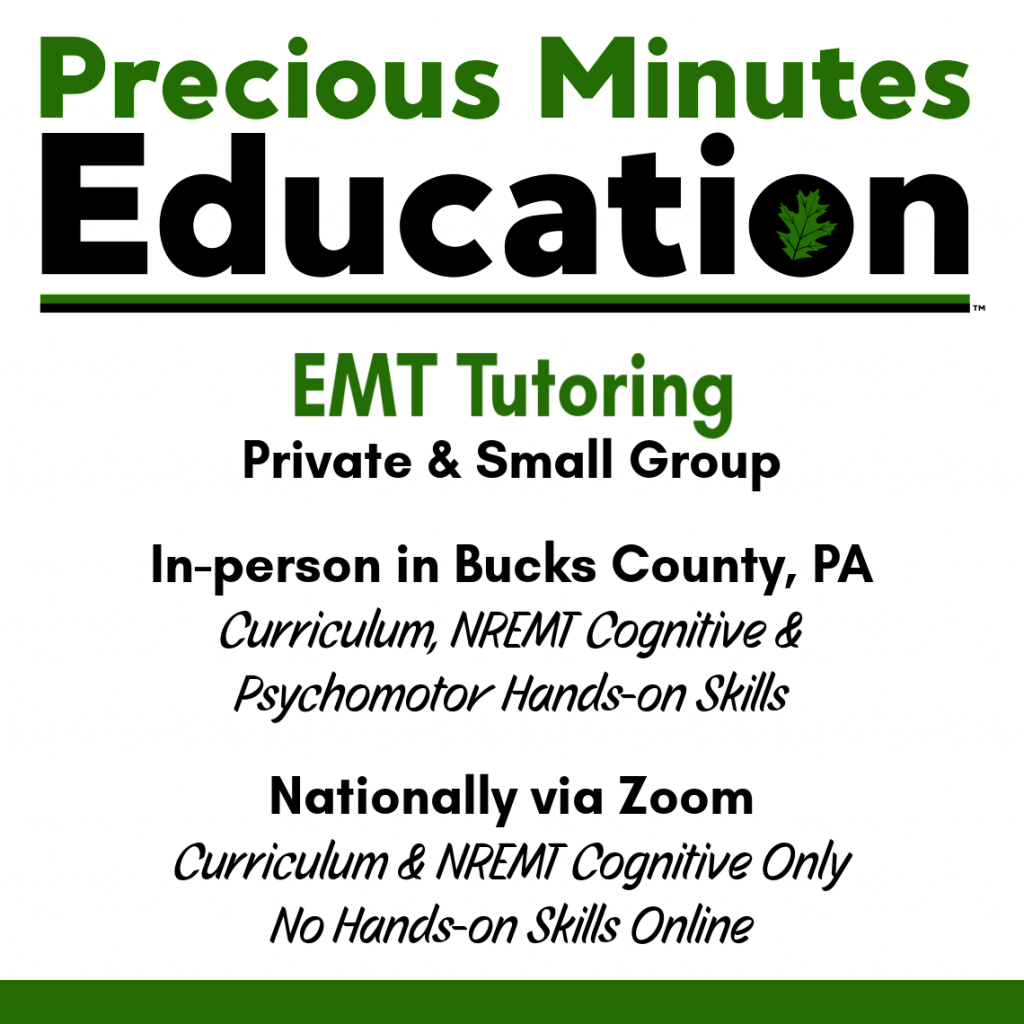 QUICK FACTS:
–– Where is PME located?
968 Easton Rd. Suite E Warrington, PA 18976
in Central Bucks County & nationally via Zoom!

–– Does PME teach EMR/EMT Classes?
No. Our Lead Educator Amanda is an active EMT, EMS Instructor, Field Trainer, and Skills Examiner and instructs for various organizations, but PME itself does NOT hold EMR/EMT Classes, currently.

— Does PME offer EMR/EMT Certifications?
Not right now. PME does NOT currently offer certification as an Emergency Medical Responder (EMR) or Emergency Medical Technician (EMT). Standby.

–– How does PME help EMR/EMT Students?
A lot! PME offers one-on-one and small group TUTORING for current, former, and pre-Emergency Medical Responder (EMR) or Emergency Medical Technician (EMT) Students so they can successfully complete class and/or their testing process to earn their certifications. PME also offers one hour EMT Class Prep sessions prior to starting class.

–– Does PME offer Basic Life Support (BLS) Con-Ed?
Yes! PME is a PA DOH Continuing Education Sponsor and can create, host, and offer BLS Con-Ed courses at our location in Warrington or yours (in Southeastern/South Central PA) on any BLS topic. You name it – we'll make it.

–– Does PME offer anything for kids/teens?
Yes! PME offers multiple age-appropriate (ages 5-17) awareness level seminars/mini-classes for summer camps, public & private schools, homeschooling, after-school programs, and groups. We also offer Babysitting Lessons & Safety Training!

–– What else does PME do?
So many things… Community Outreach, EMS Education Consultation; Research, Bridge Course or New Program Creation, Curriculum Development, Effective Staff/Student & Stakeholder Communication / Instructional Design / Activity, Assessment & Exam Editing or Writing / Custom Study Plans / Educational Infographics
–– More questions?
Call Amanda (215)430-3878 or email
Amanda@PreciousMinutesEducation.com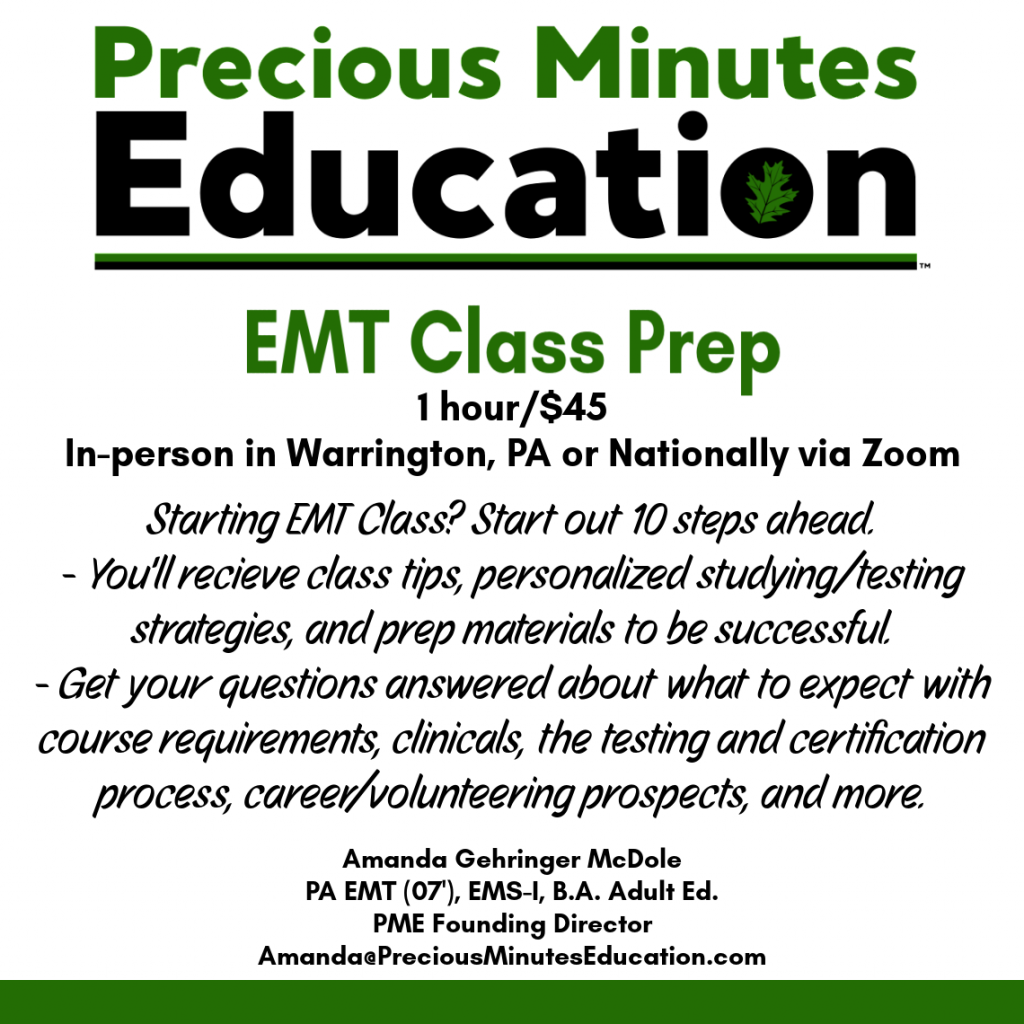 "The greatest oak was once a little nut that held its ground." – Unknown
Hi! I'm glad you've found my website. Before we go any further, I want to make sure this message is loud and clear – it's okay to ask for help, and sometimes necessary.
My name is Amanda, please see the "About/Contact/Review" tab for more information on who I am, my background, and how to get in touch with me.
For a decade and a half I have been working, volunteering, field training and instructing/tutoring in Emergency Medical Services. I'm grateful to say that I love what I do, and as I have gained more insight and experience as an EMS Educator over the years I have seen what works and what doesn't. I have directly participated in the EMS Education of well over 200 Emergency Medical Technician Students, cheered on their successes and witnessed their failures. I've seen the student patterns and behaviors that work and don't work. I've had some of the most motivated and determined and some of the most listless students an Instructor could have. I've learned in time that my greatest joy as an Educator comes from the students who are struggling for any number of reasons reaching out to me, coming up with a study plan with them as a team, working with them one-on-one, and seeing their success as they gain knowledge, confidence, and preparation to enter into EMS as a well-rounded EMT.
It's not a secret that the NREMT exam (cognitive/written or psychomotor/practical) can be a daunting and unpleasant experience for a student who is ill-prepared or underprepared. It will more often than not result in unsuccessful completion unless the student is thoroughly prepared in all of the aspects of the national EMT curriculum. It's certainly not impossible to pass the NREMT, but if you do not – I can help you come back swinging with a successful completion on the next go. Tutoring is a partnership that involves teamwork and determination. I can work with you to help hone your EMS brain, but I cannot and will not be testing for you. At the end of the day you will be the one in the chair or in the station testing, but I am happy to be your conscience, the voice in your head saying you can do this – because you can.
Are you still in EMT class? Not getting enough from your program? Overwhelmed? I can help with that too.
It doesn't matter if you haven't been in school for decades, have test anxiety, a learning disability, a cultural/language barrier, a busy schedule (me too!), or anything else you feel is "holding you back" from earning your NREMT/EMT Certification. That's exactly what Precious Minutes Education is here for. – Amanda