Phone:
(215)430-3878
Address:
968 Easton Rd. Suite E
Warrington, PA 18976

__________________________________
EMS Educator Amanda Gehringer McDole
Amanda graduated summa cum laude from Temple University earning her B.A. in Adult Training and Organizational Development with dual minors in History and Political Science. She also holds an A.A. from Bucks County Community College in Social Sciences. She earned her Emergency Medical Technician certification in 2007, has been an Emergency Medical Services Field Trainer since 2009, and a Lead EMS Educator instructing public and private NREMT courses since June 2018. She has an endless passion for seeing her students successfully complete their testing and begin their EMS career. Amanda is a mother of three, an ice hockey mom and USA Hockey 12U/14U Assistant Coach, and an avid non-fiction reader focused on advancing her instructional techniques and students' knowledge retention.
____________________________________________________________

Amanda is the Founding Director and Lead Instructor of Precious Minutes Education's mother company Precious Minutes CPR and Safety Training, LLC. Established in 2014.
PMCST is available for training in Southeastern Pennsylvania, primarily Bucks and Montgomery Counties for American Heart Association CPR AED, Pediatric, Basic Life Support (BLS), and First Aid certifications and personal preparedness courses and skills sessions, as well as Emergency Care and Safety Institute's Babysitting Lessons and Safety Training seminars for pre-teens and teenagers.
For more information on Precious Minutes CPR and Safety Training please check out:
www.PreciousMinutesTraining.com
@PreciousMinutesTraining on Instagram
www.Facebook.com/PreciousMintutesTraining
____________________________________________________________
EMT Classes
Amanda is a regular fixture and Lead EMS Instructor for SafeTec Training Services located in Bensalem, Pennsylvania. She regularly instructs the weekend EMT Hybrid courses 3-4x annually as well as fills in for the weekday AM or PM classes and the EMR classes as-needed.
Her current SafeTec EMT Hybrid began on July 11, 2021.
Her next SafeTec EMT Hybrid begins on Sunday November 7, 2021.
____________________________________________________________
Reviews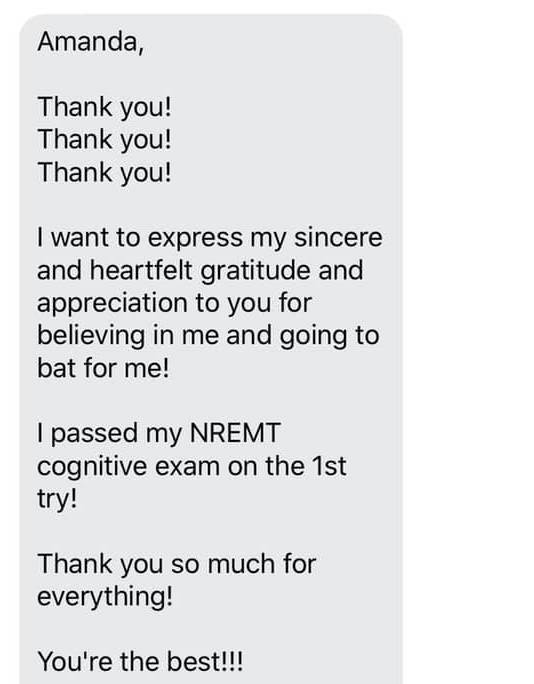 ---
"Amanda is an incredible teacher! She seriously shows up. She has so much energy and you can tell from the first meeting that she wants you to succeed. I sought her out to supplement the instruction I felt was missing in my EMT course and it was the best decision I could have made. She made every effort to be available around my schedule for our sessions. She came to each of our sessions so prepared that we didn't have time to get though it all. And instead of just bumping it to the next session, she would give me all of that information to go through and still come prepared with more lesson plans for us to work through together for the next lesson. She really went the extra mile to give me as much attention and information as I wanted. She works diligently to explain things in a way that you, as the student, can personally connect with. Because each session is one-on-one, everything is very tailored and specific to your needs. I was able to pass my NREMT on the first try due in part to her help." – Samantha T. (Tutoring Student)
---
"My instructor, Amanda Gehringer, made me look forward to come to class every week. She ensures we grasp all of the material. She sets you up for success. I have learned so much from her, not just about the class material, but about what to expect in the field. She has also taught me about life and compassion on an even greater level than I have. If you want to learn, in a manner that sets you up for success, Amanda is, hands down, the best person to learn from. She has, and will, leave a lasting impact on my life." – Vicki V. (Spring 2021 EMT Student)
---
"Amanda is an awesome instructor with an amazing teaching style! She takes the time to make sure you know everything to succeed while making it fun." – Mobina S. (Winter 2021 EMT Student)
---
"There are a lot of positives to mention about Amanda being an instructor; however, it should be highlighted that she is 1) extremely knowledgeable 2) very meticulous with her teachings w/ every chapter 3) makes class both fun and informative and prepares you for all tests. I would also like to highlight her agility w/ my class specifically. We were apart of the "Covid19" classes and there were a lot of moving parts between clinicians, practical preparation, and working with State and nation wide EMS protocols to ensure we'd be able to fulfill are required needs to graduate and test for national certs. She did this seamlessly. Were there hiccups? Of course, the entire world was in a pandemic; although, she did a fantastic job of keeping us informed and exceptionally prepared.
On a scale of 1 to 5, with one being the worst educator in your life and 5 being one of the best. I rate my experience a 5." – Daniel I. (Spring 2020 EMT Student)
---
"Amanda is an excellent instructor, she is always there for her students to help you with whatever you need in any way she can! She thoroughly teaches all topics for any class in which she is the instructor, and she goes above and beyond that! If you have questions about a related topic not directly covered in the material and are interested in learning more, she will go out of her way to gather information/create worksheets to teach you about those additional topics. She is a great teacher and will help you understand the material if you are having trouble grasping a concept. At the end of Amanda's class you will fully understand all of the material and be completely prepared and ready to apply the concepts you've learned! Amanda is not only a great instructor and teacher but she makes the material fun to learn! Anyone would enjoy learning from her and look forward to going to her class." – Amanda S. (Spring 2019 EMT Student)
---
"I took Amanda's hybrid EMT class in spring of 2020. Amanda was a great instructor who really cared about her students. Although my class began during the intense restrictions of COVID-19, Amanda made sure that we covered everything we needed to know even though it was all through a zoom meeting. Amanda draws from her experience in the field and incorporates it into lessons which I found incredibly helpful. It made all the information learned seem more applicable to real life situations. Amanda also offered office hours for class which was a great resource. She made sure that we throughly understood the material as well. Overall Amanda cares greatly about her student's success and was an informative yet interesting instructor. I enjoyed her class very much. Thank you Amanda for all your hard work and making your class so enjoyable." – Emma T. (Spring 2020 EMT Student)
---
"Amanda is a great instructor she made learning fun and interactive. With the EMT training class there was a lot of information that needed to be processed in a short amount of time during class she always had different activities to help us learn the information. she always made sure you knew what you needed to in order to pass the NREMT. Amanda always made herself readily available to help her students that had questions/concerns. During school, after class and well after we completed our training. Amanda enjoys teaching and it shows in her work I would highly recommended her to anyone." – Casandra A. (Fall 2018 EMT Student)