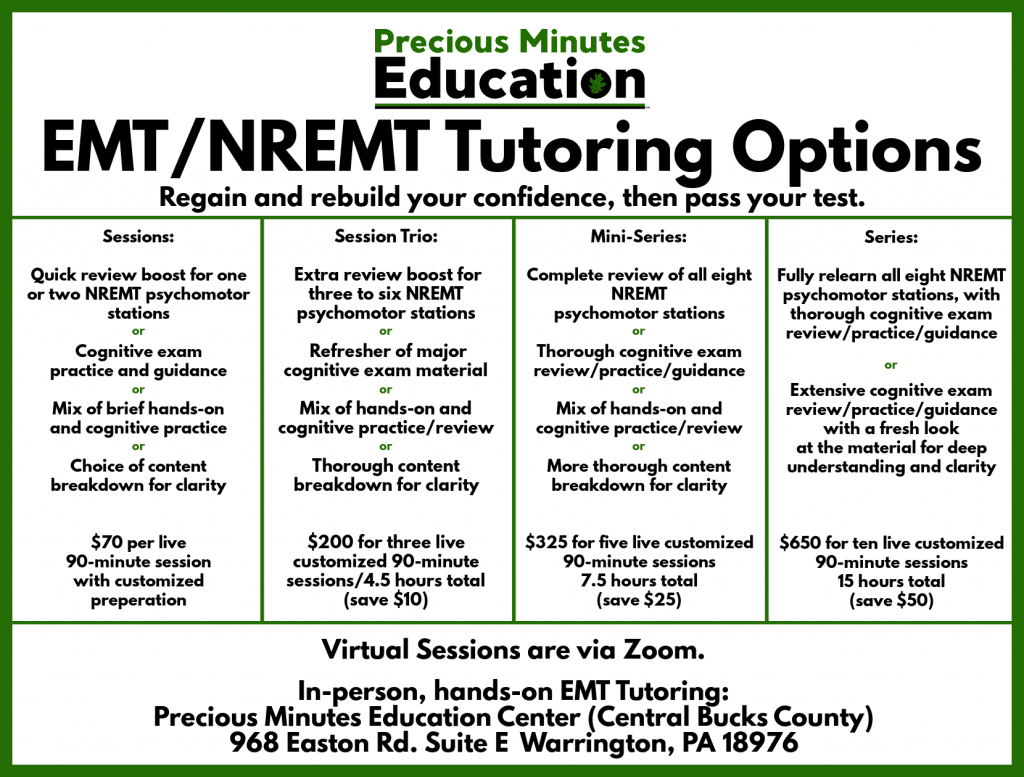 Why 90 minutes?
60 minutes goes too quickly and 2 hours is just a bit too much for the intensive and packed one-on-one sessions. After trying out many different options, the 90 minute sessions are the sweet spot!
Can I share a session or series with a friend?
All tutoring sessions and series are based on a one-on-one completely customized experience. Unlike in EMT class, Precious Minutes Education's EMT Students have the full and complete attention and access to the wealth of information and experience of our EMS Educator Amanda.
If two EMT Students would like to share sessions/costs and be tutored simultaneously, they may share either single 90-minute EMT Tutoring Sessions or a Session Trio of three 90-minute sessions.
During our Mini-Series and Series the full 90-minutes per session is spent entirely focused on the EMT Student's content weak spots, goals and progress, and cannot be shared due to the intensive nature and personalization of PME's curriculum.
I need help but I have no idea which option is right for me.
That's understandable. Here are some examples of Amanda's actual EMT Students (names have been tweaked for privacy) and what tutoring option they chose given their specific needs:
One Session – Cognitive/Test Anxiety
Ryan has test anxiety and was panicking a little bit more than necessary prior to sitting for his NREMT cognitive exam. He completed one 90-minute live Zoom session two evenings prior to his morning exam to cover some last minute content concerns and breakdown cognitive question examples. He successfully passed on his first attempt.
One Session – Psychomotor/Brain Fog
Harvey had failed two NREMT Psychomotor stations, Trauma and BVM Ventilation of an Apneic Adult. He felt like he knew the skills one at a time but kept "blanking out" when he got to specific parts of the stations and would skip things he needed to say or do. In 90-minutes we were able to breakdown and practice the exact steps, in order, and equally as important was making sure Harvey understood why he was supposed to be saying and doing what the station was asking for, and what that means for a real patient in the field. Harvey passed both stations on his next attempt one week later.
Session Trio – Cognitive/Focused Help
Selena had two unsuccessful cognitive attempts but knew exactly what material she needed to work on (given her comfort level with the questions during her first two attempts and the NREMT breakdown upon test completion). Once we thoroughly covered her weak content in the first two sessions, during the third session she requested a live practice exam of all material. By the end of the three sessions Selena was confident, excited, and ready to retest.
Session Trio – Psychomotor/Nerves
Sonique described herself as "a bucket of nerves in a basket case". She had already successfully completed her cognitive exam, but had failed three psychomotor stations: Patient Assessment/Management both Medical and Trauma, and Joint Immobilization which was done simultaneously with Trauma. My initial focus was not on what was failed, but what she had already passed, and how to get the same result on the other stations. Sonique successfully passed every station but her Medical Assessment, by a self-proclaimed "ridiculous mistake", but with a little added guidance she successfully completed her Medical station.
Mini-Series – Cognitive/Dyslexia & Reading Comprehension
Tara has dyslexia and also struggles with reading comprehension during timed exams. She had three failed cognitive attempts, completed her required refresher and was unsuccessful a fourth try. She needed a boost with not only material understanding but also to gain confidence in how exactly to read the cognitive questions.
Mini-Series – Cognitive/No Idea How To Study
Dan, a volunteer Firefighter, explained how he had no idea how he passed his EMT class. While he cared deeply and wanted to become an EMT, he really struggled with the accelerated course he took and explained he basically squeaked by to completion. He said he had "absolutely no idea how to study this many chapters" and felt overwhelmed. He explained he wasn't a good student in high school and never really learned how to study. He needed heavy assistance with scheduling a study plan that worked around his work schedule, volunteer schedule, and kids, as well as guidance on how and what to study. By the end of our mini-series Dan said he actually liked homework!
Series – Cognitive/Rushed In & Long Break
Kinsley completed her EMT class and immediately sat for her cognitive exam without reviewing much material aside from flashcards her boyfriend made for her during class. She also "skimmed the book to cram" the night before her test, but since she had done well on her course final exam she thought she would have no issues. Her first attempt was unsuccessful so she invested in various EMT apps and took NREMT practice tests online. She said she felt ready, but after a second unsuccessful attempt she didn't crack a book again for almost one year. Upon opening up her notebook and textbook again to start studying for her third cognitive attempt well over a year past her class ended she realized she had not retained anywhere near as much as she originally thought. She needed an entire refresher to fill in the gaps.
Any questions: Amanda@PreciousMinutesEducation.com
More Tutoring FAQs will be added soon!
2020 EMT Pass Rate by State on 7/14/20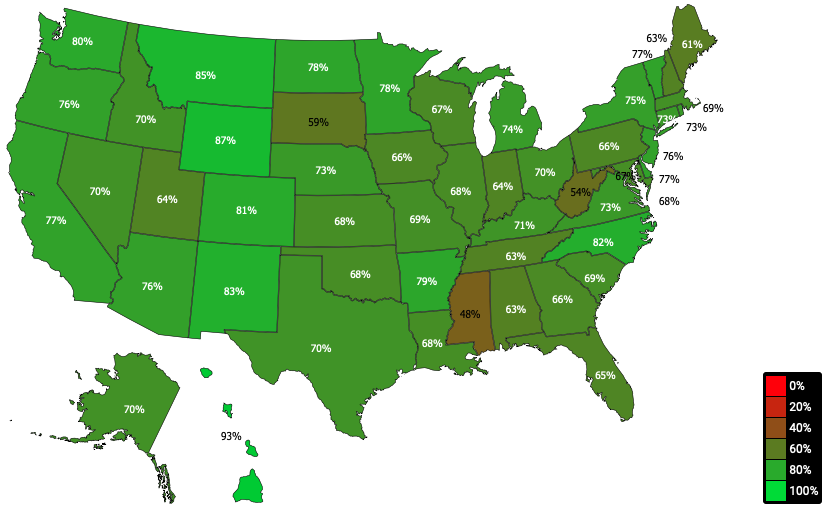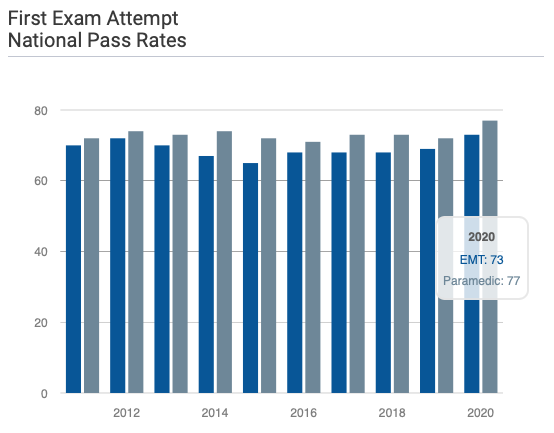 The National Registry Data Dashboard. (2017, April 13). In The National Registry. Retrieved 14 July 2020, from www.nremt.org/rwd/public/data/maps